10 Amazing Castles Built for Love! [Fwd: Sharon Rajkumar]
10 Amazing Castles Built for Love!

Love, say the poets, makes the world go round. Love is the most powerful force there is, and when in throes of true love, you are floating somewhere in the clouds, unbound to earth. Indeed, love has been the inspiration behind countless works of art, books, movies, plays and musical pieces. Some, it seems, would build a monument to their love, to declare it with stone and mortar.
Castles seem to be a supreme statement of true love, built with great hardship and expense, to serve as a romantic home taken out of a fairy tale, and to live in it happily ever after. The irony is, that many of these castles built for love were also the homes of tragedy. Here are the stories of 10 legendary castles, built for love.
1. Boldt Castle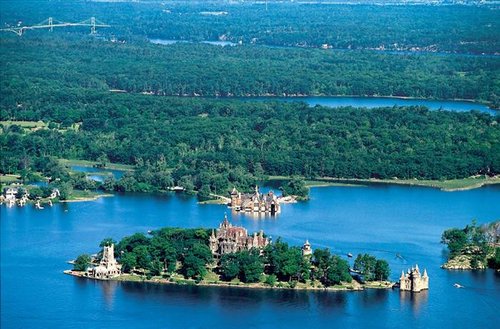 An aerial shot of Boldt Castle on the Saint Lawrence River, near Alexander Bay, New York. This castle estate was built on 5 acres by George Boldt as a gesture of love to his wife, and was supposed to be given to her on Valentine's day, 1905. Unfortunately, a recurring theme with castles built for love is that tragedy also accompanies them.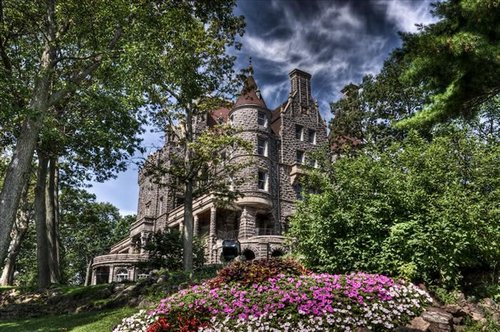 Castle Boldt resides on the beautiful Heart Island and remains a monument of love to this day, the love of George C. Boldt for his wife, Louise. According to Boldt Castle history, "Beginning in 1900, the Boldt family spent summers in the 1000 Islands at the Boldt Families Wellesley House near Mr. Boldt's Wellesley Island Farms while 300 workers including stonemasons, carpenters, and artists fashioned the six story, 120 room castle, complete with tunnels, a powerhouse, Italian gardens, a drawbridge, alster tower (children's playhouse) and a dove cote. Not a single detail or expense was spared."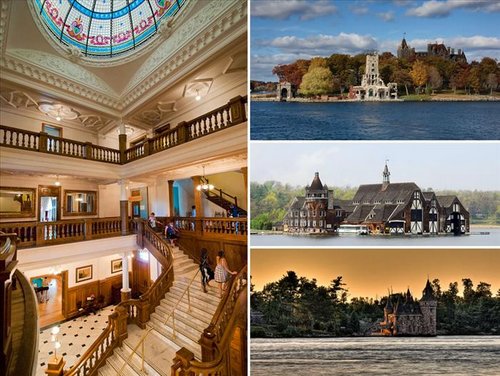 'Man plans and God laughs'.
Boldt Castle was planned to have eleven buildings, the most grand and luxurious castle in the Thousand Islands. But tragedy struck a year before it was completed, when Louise died. George, his heart broken, ordered the construction to stop, and never again returned to this island.
The castle and its buildings stood alone, abandoned, for 73 years, abused by weather and vandals. In 1977, the castle returned to real ownership when it was bought by the Thousand Islands Bridge Authority for staggering price of…. $1. Since then, loving hands have restored it.
On the left: The staircase. Upper right: Main gate and Alister tower.
Middle right: Yacht house. Bottom right: Sunset reflecting off the Boldt castle powerhouse.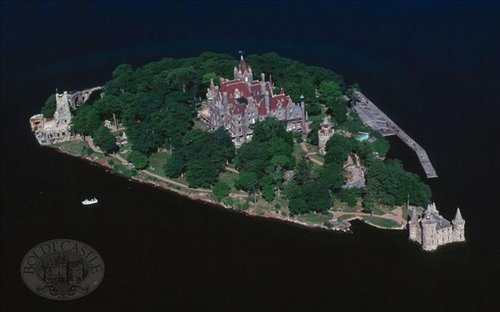 Boldt Castle is an amazing architectural achievement, and includes a yacht house, the Alster tower, the power house and legendary castle with 120 rooms. It has all you dream about in a romantic castle, and to this day lucky couples get married there.
2. Casa Loma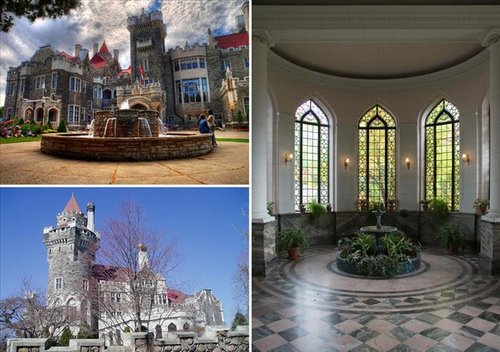 Casa Loma (Spanish for: "House on the hill") was built by Major-General Sir Henry Mill Pellatt who promised his wife Mary a 'sprawling castle'. The castle was built in 1911 and no expenses were spared by Sir Henry. It was considered very modern at the time and cost over $5 million to build and furnish. Just so you understand, that amount today would be the equal of $65 million.
Despite the expense and beauty of the castle, the couple lived in it for only 10 years, until they lost their fortune in the depression that following world war I. Sir Henry was forced to auction $1.5 million in art items and the furnishings for only $250,000.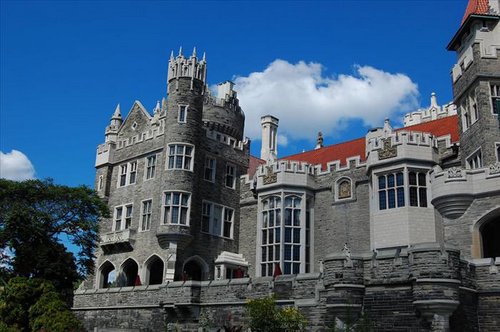 300 workers constructed this love castle, which boasts 98 rooms spread over 3 stories. It used to hold the title of largest private residence in Canada. Inside was "an elevator, an oven large enough to cook an ox, two vertical passages for pipe organs, central vacuum, two secret passages in Sir Henry's ground-floor office and three bowling alleys."
Wow.
After the couple left the castle it became a hotel for a short while in the 1920s, then a night spot.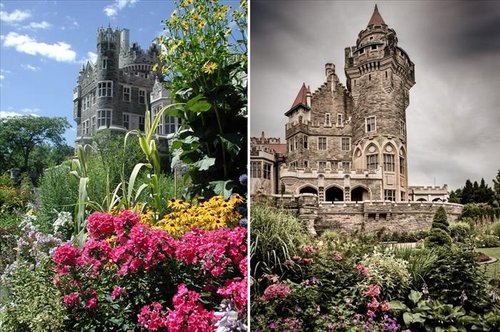 Today, Casa Loma is a museum and a popular landmark destination for tourists. The exterior of the castle has been through restoration, and the castle is surrounded by 5 acres of beautiful gardens.
3. The Taj Mahal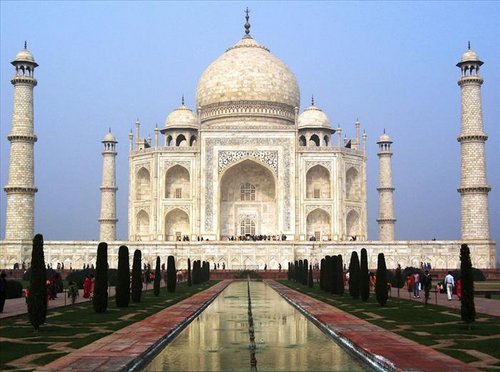 We all know the beautiful Taj Mahal in Agra Uttar Pradesh, India. While it was definitely built for love, it was the memory of love that it was really built for, as the 'favorite wife' of Emperor Shah Jahan, who had this mausoleum built in her honor.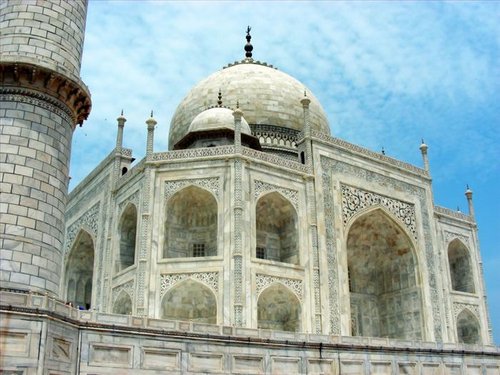 A side view of the Taj Mahal. The dome and 4 standing minarets were all built out of pure white marble. The emperor wanted this to be the most glorious monument ever built for a woman by a man. We can't really say he failed.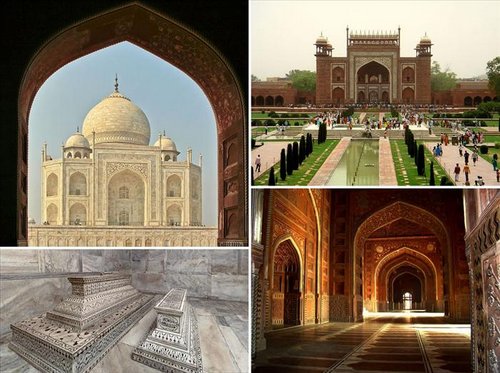 The inside of the Taj Mahal, as well as the outlying buildings, were mostly built out of red sandstone. In building it, the architects combined different architectural styles, including Indian, Persian and Islamic. But the heart of the 'castle' remains the tomb and the memory of lost true love.
4. Kellie's Castle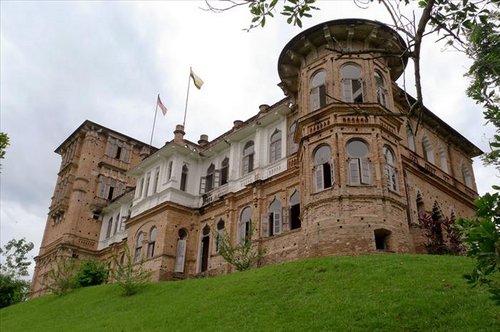 The oldest castle in Malaysia, Kellie's castle was built for the love Scottish planter William Kellie Smith held for his Scottish wife Agnes. In 1903, William brought Agnes to Malaysia and into the castle. But Agnes was not happy there, for she missed her homeland terribly. In 1915, she gave birth to a baby boy, which is when Kellie made the mistake of expanding the castle, a move that turned a beautiful castle into a sad story.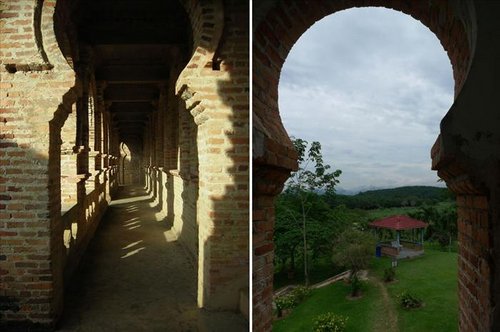 During this further construction and in celebration of his new son, William decided to combine 3 different architectural styles: Indian, Greco-Roman and Moorish. Almost immediately after construction on this huge venture began, the Spanish flu erupted in the area, killing the lion share of the 70 construction workers he hired, while scaring off many of the survivors. To please his Indian workers, William had a Hindu temple built near the castle, and so the workers were mollified and restarted construction.
Although the construction continued, many of the workers spread stories about the castle being 'cursed' and 'haunted'. When William left for England to buy a crane for the castle tower, he caught pneumonia and died shortly after. Following his death, the workers fled the site and the building was left uncompleted. Many claim this spot is haunted and it attracts paranormal groups every year.
5. Thornewood Castle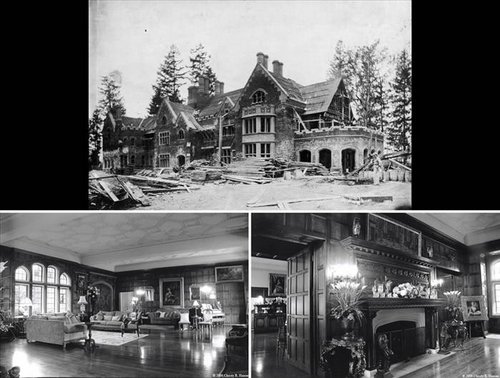 Thornewood Castle was indeed built for love. It resides in Tacoma, Washington. This castle was not built for a new bride or a dead one, but by Chester Thorne for his wife of 20 years. For its beautiful interior, it has been used in the film 'Rose Red', based on a Stephen King story.
Top photo: Construction of 'rose red', 1910. Lower left: Interior living room.
Lower right: Interior fireplace in living room.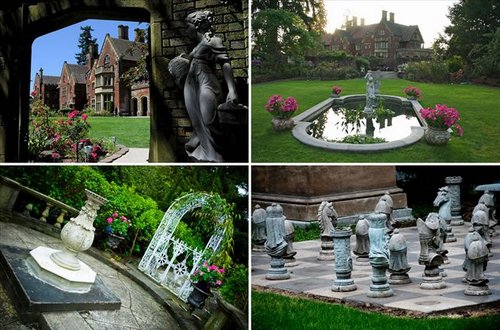 The gardens of Thornwood are stunning, and were originally built for Anna, the wife. She used to call the sunken English garden her "secret garden". This chess set remains from those days as a silent testament to the true love between this man and wife. This is one castle of love that did NOT suffer a tragic ending, for which we are grateful.
____________________________________________________________
This Amazing Email with pictures published as provided by Sharon Rajkumar. You too can share forwarded emails by sending them to info@forwardedemails.com and get it published with your name. We respect copyright, please don't forward copyright material.
____________________________________________________________
Comments
comments
EMAILS IN YOUR INBOX FREE!